Fishing Tips
---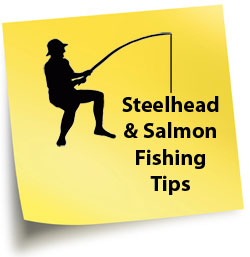 Fishing Tips
Salt Water Fishing Tips
Trolling for kings I like to troll at a 1.8 – 2.0 knot speed using Hotspot flashers and hoochies (imitation squid) or spoons. Some of my favorite hoochies are the green splatter back, the Seahawk (green & blue) and purple haze with a white glow flasher which is very productive. I will use others but these are my favorites.
Read Full Article about Salt Water Fishing Tips Here
Fresh Water Fishing Tips
For kings the most popular method is back trolling Kwick Fish, plain or wrapped, with a sardine fillet. I fish the deeper holes but it requires adequate flow to make them work and dive well. If there is no current I will use floats and eggs.
Read Full Article about Fresh Water Fishing Tips Here
Drift Boat Fishing Tips
Side drifting is one of the most popular methods in conventional steelhead fishing. This can be done with bait, yarn and rubber worms. This method runs your gear alongside the boat for a longer, more natural looking presentation. On my guided trips I set up my gear the same from the line on the reel to the amount of lead and the leader. Also learn about drift boat fishing: pulling plugs and driftboat fishing: spoons and spinners!
Read Full Article about Drift Boat Fishing Tips Here


For great Olympic Peninsula Fishing Guide servcies in La Push, Sekiu, Neah Bay and Forks Washington Salmon, Halibut and Lingcod Fishing Charters and Olympic Peninsula Fishing Guides for Salmon and Steelhead. - call Allways Fishing!